Who doesn't have stress in their life? I'm sure all of us can relate that life can just get overwhelming sometimes. Insert hand raise emoji here. Yep, been there, done that! So how do you cope? Do you just get so stressed you don't even know how to relax? Well, deep breaths and calm down!
Kenji
and I have teamed up to help you out!
//A Bath with Epsom salts..and bubbles!
Bath's alone are beyond amazing. They are quite relaxing, especially for my Rheumatoid Arthritis! Whenever I'm having a flare up I usually run to a heating pad or a bath.
Personally, I love a bath more.
All you need is one or two cups of Epsom salt, grab a glass of wine, and a magazine and enjoy the relaxation that is overtaking your body. Fun fact: Epsom salt baths are a sort of detox so not only does it relax the body it aids in detoxification! If you're really looking to relax you can add some lilac bubbles...plus they're just plain fun.
//Eucalyptus Showers
This is something my mom taught me and it's also something I will do for the rest of my life! All you need is a bundle of Eucalyptus ($3-$6 at Michael's) and a shower. Keep the eucalyptus tied together at the end, spread it in half and place it over the shower head. All I do to release the aroma is get the water piping hot and slightly place the eucalyptus. From then on every time you take a hot shower the aroma will fill the bathroom. Let me tell you right now, you will never want to get out. It smells so good and completely relaxes your body. All that stress you had is now completely gone! Run to Michael's so you can try this!
//Light a candle and play quiet music.
I know for me, when I'm trying to really relax I like to feel like I'm at a spa. That means lighting candles and playing soft music. Call me crazy but I
LOVE
music scores. You know all the instrumental music that plays in the background of movies.
Hans Zimmer...
anyone? Bueller? That's okay, what works for me might not work for you. Maybe you enjoy soundscapes or acoustic music or no music at all, whatever works for you - do it!
Melissa's Picks:
// Aromatherapy Lotions.
I use the Bath & Body Works line for Stress Relief. It's got eucalyptus and spearmint, so not only does it smell ahh-mazing, but it's relaxing for sure. (Did you know there's a lotion to help with sleep too!) Both sleep and stress relief are great to help you relax. Something about the natural scents is just so calming.
// Essential Oils.
Yes, we've seen EO's all over blog land, but I've been using them long before they became a "thing". At least I feel like I was anyway. My mom raised all of her kids with homeopathic remedies... oils included... So, I don't use the Young Living brand or anything that fancy, but I use oils. Lavender Oil is GREAT for stress relief and promoting relaxation. I rub a little on my feet to get it absorbed quickly. I get mine from
GNC
. It's convenient, local, and affordable.
// Teas
. I'm a gal who loves her coffee, but let's face it: coffee kind of does the opposite from calming you down! Obviously a
sleepy time tea
is perfect with the chamomile. However, I'm a lover of
Teavana Teas
. Did you know passion fruit is a natural stress reliever? Teavana makes a
guava, papaya, passion white tea
. I actually like this tea to relax better than sleepy time because
it doesn't make me tired
but it does help me calm down. If a bold fruity flavor isn't your cup of tea (ha, see what I did there?), then maybe you'd like
Yogi stress relief
? I'm not being sponsored, I just
really
love these teas!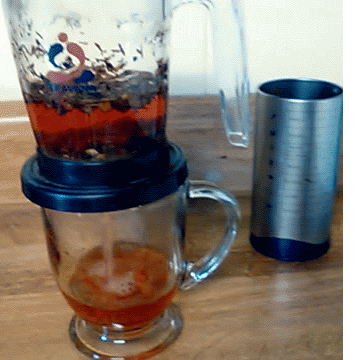 I (Melissa) MADE THIS GIF!!!!!
What do you do to relieve stress? We'd love to hear any additional tips or remedies you have!