Do you ever have the days where the voices in your head just kind of take over? Just me? I kind of feel like it's been happening a lot more lately. Maybe it's because the only person I have to talk to throughout most of the day is two and her reply to everything is "Yeah, Mommy. I know."
While the plumber is fixing a leak:
I go to the kitchen to make juice for the kids... "Stupid, Melissa. The plumber just said he turned the water off!"
While stretching after a workout:
"Why is there a pile of crumbs under the dog's bed? I need to clean those up later." (guess what, I'm reminding myself of this again as I'm typing this.)
Blogging with the T.V. on in the background:
"What was that commercial even about? The song was catchy. Too bad I had to finish typing a sentence before I could look up." *I looked up for a second* "Ugh. This stupid beer commercial. I'm going back to blogging."
Watching Ridiculousness:
"Wait, people really get muscle implants? Why is that a real thing? Add this to the never ending list of crap to tell the kids not to do."
Random out loud thinking:
"I feel like I need to be planning for our Jersey trip more. It's in September but you never know."
"I need to get an ironing board. Or find something to use other than the floor."
"I cannot believe I broke my coffee pot!"
and then of course, when I'm actually talking to the kids, I feel like I'm talking to myself.
"Ainsley, the cat doesn't want to be painted. Put the paintbrush down."
"Zander, don't leave your socks in the middle of the floor. Put them in the hamper."
"Ainsley! We cannot run outside in just our underwear!"
Co-Hosting My Conversations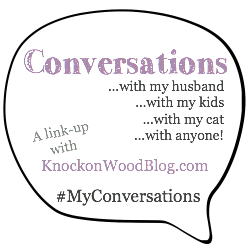 Link up a fun conversation with us!