I'm a blogger and therefore I like lists, right? Right. So imagine my excitement when
Amanda
at
Knock on Wood
announced a
new linkup for November full of LISTS!
The best part about the linkup? You don't have to go in order, and you don't have to do them all. All Amanda asks is to be honest with yourself. Easy Peasy right?
Today I'm grateful (see what I did there?) that I have the ability to linkup with two of my best gals. Emily at
Ember Grey
for Grateful Hearts and Amanda at
Knock on Wood
for List Yourself
~~~~~~~~~~~~~~~~~~~~~~~~~~~~~~~~~~~~~~~~~~~~~~~~~~~~~~~~~~~~~~~~~~~~~~~~~~~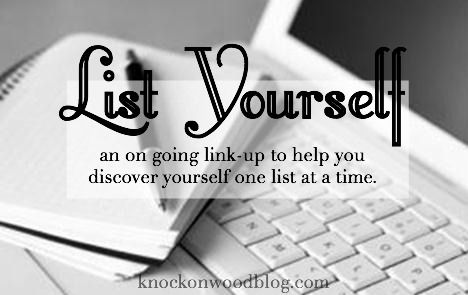 # 13:

List some of the people that have really changed your life.
I'm Grateful for these people.
Or at least what they've taught me ;)
// My Kids. Obviously they have changed my life. For the better. I've become more responsible because of them. I've become more loving. And they sure have made me realize I need to be more patient. (Still working on that last one).
// Dr. McCoy. My 10th grade chemistry teacher. This was where my love of science began. He made science fun, and didn't make anyone feel like less of a person if they didn't get balancing chemical equations right away. Also, thanks to him I'm confident I won't have a problem helping Zander with his science homework when that comes! HA!
// Jeff Starnes. My mom's ex husband / my ex step dad. Thanks to this [insert expletive descriptive word here] guy, I learned at a young age to stand up for myself. I learned to not let people push me around. I learned the true meaning of "no means no". Obviously this is very cryptic and only few people will know what I truly mean by all of this... another post for another day. But thank you, Jeff for teaching me how NOT to be a parent.
// Amanda Nicole. She's been my IRL bestie for over 8 years. EIGHT YEARS! When I say we've been through a lot together, it's the understatement of the century. I love her
dearly. She was there when I was in a crappy relationship, and she was there when Zander was born. I haven't always listened to her advice, and I pushed her away a few years ago. Worst thing I'd ever done. It wasn't until earlier this year that we got back in touch. (Thank God we kept the same cell #s and I was able o reach out and beg for forgiveness!) She's my Manda. My bestie. She's the one that will always remind me to keep breathing.
2006
2014
// My Husband. My soul mate. Just when I thought there wasn't anything better than Brooks Cunningham, Josh came into my life. Neither of us had any intention of dating each other. I'm grateful for Josh each and everyday. The one person that constantly reminds me that I'm better than what I think I am. Josh reminds me that I'm smarter than I think and never complains about my cooking. Even when I burn the meatloaf. ;) He's made me realize true love is indeed real, especially when I had started to doubt it eight years ago.
// J. A. Folger. The founder of the Folgers Coffee Company. Because without him, I wouldn't have really great coffee in the mornings, and I'd be a very grumpy / tired mommy all day. His coffee changes me into a happy / more awake / functioning mommy.
Who has changed your life? Who are you grateful for?