Good Morning, Lovlies! Last week I was asked by
Rebecca
from
The Adventures of Bug and Boo
to participate in the blogland tour. I happily accepted because Rebecca is just great. Rebecca and I participated in a blogger match "find your blogging soul mate" and we were paired with Meagan from
All The Joys
. In my opinion, we're all a great match! I really love Rebecca's blog so I'm very happy she asked me to join in the tour.
So let's start the party!
What are you working on now?
That's such a tough question for me to answer. Lately I've been kind of all over the place with my blog. For now I'm having fun with it. I participate in link ups and throw a few of my randomness in here. Each Wednesday I've been participating in a
Mama's Tell All link up
; I'm sad that it's coming to an end because I've had a lot of fun with this one. It's given me a chance to be really honest with myself as a mom and share my own personal experiences with other moms on the various topics. I've been toying with the though of doing a series. I want to do a series. The inspiration just hasn't struck yet, so for now I'm just going to keep chugging along in my own special way.
As far as what I'm working on around the house... well, just trying to be the best mommy and wife I can be. Josh and I are planning for a trip to New Jersey next September to see his younger brother get married. Josh is the best man, so I've been helping him with his speech. He says since I'm the "writer" in the family that it's my job to help. Ha, ok! My writing is far from professional, I assure you!
How does your work differ from others in its genre?
Well, I guess you would call my blog a "lifestyle" blog. This of course means the genre is ginormous! I love that bloggers in my genre can just talk about whatever the hell they want to. That's what makes all of us so unique. We're not limited to conforming to writing "rules". We're not bound to specific paragraphs, or word limits, or even specific topics. If I want to write about how my toddler annoys me with her constant need to throw DVD's off of the shelf then I will. In short (ha because that didn't happen) my work differs from others because everyone in blogland is unique. It's beautiful that way. I wouldn't want it any other way. I love being able to read such diverse posts even when they're written on the same topic!
Why Do You Write / Create What you Do?
My best IRL friend
Amanda
from
Knock on Wood
got me into blogging. She said that the funny stories I would always share with her about my kids and husband was "good blogging material". I've heard other people tell me that in the past, but it never really stuck until Amanda said it. Writing now is a way for me to get thoughts out of my head. Before I'd simply just tell my thoughts and/or funny stories to anyone that would listen. Now I simply write it down. It's a great way to get out any frustrations I might have, or just to share something funny. Bonus to writing the blog? I've made so many amazing new friends in the blogging community. I never would've thought it'd be this much fun with so many supportive people.
How does your writing / creative process work?
HA! What process? No seriously... "what process?". In all honesty I don't have much of a process. Occasionally if I have a funny conversation I'd like to share, or if I get a really great idea for a post I'll make a note of it. For the most part though I'm a fly by the seat of my pants kind of gal. Most of time I'll have a blank post page up until some sort of inspiration hits. Occasionally I'll have enough inspiration to have a few posts scheduled out, but for the most part if my posts are scheduled it's because I did them the night before.
Here are your next stops on the blog tour.
I'm so happy these awesome ladies agreed to participate. I'm also an overachiever when it came to asking other bloggers to participate. Most people had two or three. I have six. Yes...
six.
I asked all of these ladies not knowing who would say yes or no. I wanted to ask several in case more than half said no. Planning for the worst, that's me. HOWEVER, none of them said no. They all love me, they really really love me!
Kasey At The Bat.
Kasey is an Atlanta blogger like myself. We share a love for sports and a bad habit of not cleaning out our closets. Kasey blogs about anything and everything. She shares her wishes, her knowledge of our local sports teams, and she has a really cute lucky red dress. I'm convinced it works. Talking to Kasey is always entertaining. I just adore her.
Mary-Keith
. She's a relatively new blogger, but reading just a few of her posts - like me - you'll grow to love Mary-Keith! (How cool is her name, btw?). She's one of those bloggers that you really feel like you've known them forever and can really relate to what she's writing about. She blogs about true stories, life happenings, and everything in between!
Him & Me (but mostly me).
Kathy is one of the first blogs I started following when I joined blog-land. She's an absolute sweet heart. She blogs about daily things in her life including weekend outings with her adorable nieces and nephews! Some of the things her nephews say are absolutely hilarious. She claims she's not quirky but I would disagree. She recently got married and shares a lot about what it's like being married.
Southern Hope Blog.
Whitney has quickly become one of my favorite bloggers. I started reading her blog from the Mamas Tell All linkup, but I got stuck because her content is just so great. She has a new feature on the blog, "Let's Do Lunch". It's a way for her readers to ask anonymous questions that she answers in a new blog post each week.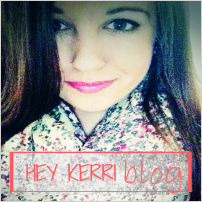 Hey Kerri Blog
. Kerri is so CUTE! She claims sarcasm is her first language and wine is her water. Maybe this is why I love her so much because I would also agree. Kerri talks about product reviews, blogging 101, and everything in between. Fun fact! Kerri is Canadian! She has a love for hockey and thinks Crosby is her boyfriend. (Straight from her "about me")
The So-Called Homemaker
. Christine is another Atlanta blogger. She blogs about cleaning tips, real estate advice, and delicious recipes. Let me tell you, some of the recipes she shares are absolutely amazing. Christine is one of the hosts for the Mamas Tell All link up. Her support in other bloggers is outstanding, and you can really tell in reading her blog that she has a strong love for her family.