Good Morning, blog world! Surprised to see me around here on a Saturday? Yeah, me too. BUT! It's the 15th which of course means it's time to share a conversation with
Amanda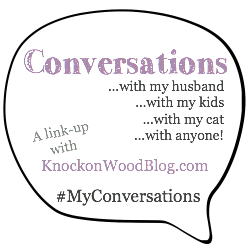 Let's set the scene. It's a weekend. It's outrageously early in the morning. Both kids have made their way into bed with me.
Zander:
Mommy, Can I play with your phone?
[I'm pretending to sleep to see how long he will let me stay in bed]
Zander:
Mommy! Mommy! Mommy! Mommy! Can I play with your phone?
Me:
No, go back to bed. It's too early
Zander:
But I'm already up! I want something to play with.
Me:
Go play with your toys in your room.
Zander:
My room is too messy. I can't find batman.
[now I'm laughing because I told him to clean his room last night and he didn't listen]
Me:
well, I guess you're out of luck then.
[I feel Zander climb down and hear him go clean his room. Score 1 for Mommy!]
Ainsley:
Mama!! Watch!!
[I roll over to see Ainsley now standing on the bed]
*Ainsley starts dancing and laughing*
Me:
good dance Ainsley.
From there... I decided I couldn't sneak anymore sleep and it was time to make breakfast. Sigh. Life of a mom. Never getting to sleep past 7:00 ever again. I wouldn't change a thing.