I'm sorry that I don't have an official speech planned. This was completely unexpected. I'd like to thank my new friend
Mary-Keith
for nominating me for the
Liebster Award
. If you haven't checked out Mary-Keith you totally should! She's just the sweetest. Love her!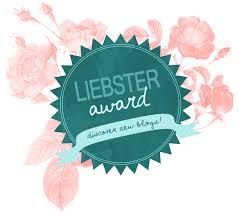 This award comes with some rules though. Good thing I'm not a rule breaker (today).
Post 11 random facts about yourself
Answer 11 questions asked by the person that nominated you
Nominate a few bloggers (with less than 200 followers) to do the same
Let the bloggers that you nominate know that they've been nominated!
Easy peasy, right? Right! So let's get to the fun part!
11 Random Facts About Me
I've done
7 random quirks about myself
, but I'm guessing those don't count so let's start from scratch.
I went to three (yes, THREE) different high schools.
I had my belly button pierced and tried to hide it from my dad. He found out when it got infected.
I'm the first girl in 50 years on my dad's side of the family
I was the first grandchild to make my grandparents on both sides of my family Great-Grandparents
I'm not the oldest grandchild.
I burn almost everything I attempt to bake. (don't expect homemade cookies if you come to visit me)
I like to dip my french fries in milkshakes. Especially strawberry milkshakes. YUM!
Whenever I see Minnesota typed out, in my head I read it like they say it up north: "Min-EH-soooooohh-DAHH"
People from Minnesota make fun of the way I say "Y'all".
I would prefer to just have a cup of coffee for breakfast but I force myself to eat so I get my metabolism going
I'm friends with more people that are 10-12 years older than me than people my own age. I feel like I have an old soul
1. Do you like Christmas music?
I do! My birthday is ON Christmas. It's always been my favorite holiday, and I really love the music!
2. Do you like to cook?
Yes. I'm actually better at cooking than baking. My pinterest has a food board, but I've only ever attempted the ones that don't require baking.
3.Do you watch Gilmore Girls?
Gilmore Girls is one of my all time favorite shows. I love that so many people are re-watching it now. This was something I'd watch everyday after school.
4. What is your favorite hobby?
Do you remember sand art? Actually, I really love doing the arts and crafts projects that you can buy in a kit at the stores. candle making kits, key chain kits, etc. I love doing them with the kids.
5. What are three goals you have in the next 10 years?
Buy a house. We've been renting for as long as we've been together. We're saving up to buy our own house
Be at a steady job with benefits and minimal risk of me being let go
Go back to school. I don't have a college degree. My friend Amanda from Knock on Wood has inspired me that going back to school in your late 20's isn't that hard or scary!
6. Do you watch reality T.V.? Not as much as I used to. I still love America's Next Top Model along with a few others, but our T.V is mostly on PBS Kids lately.
7. How do you feel about your current job? Welllll. I loved it. I really enjoyed going everyday. However, last Friday I was let go. I'll post more about that later. I'm still having a hard time processing it.
8. What is your most embarrassing moment? HA! That can be summed up in one picture:
This was my birthday party in 2006. I was in the bathroom, and Josh ran in with the camera to snap a picture. This was me screaming because he scared me! At the time we had only been dating for a few months.
9. Any hidden talents? I can speak gibberish. I can also knit. I don't know if those are hidden, but that's what I can do!
10. How do you feel about flying? I love it! I've been on planes several times. The first time I flew I was 10 or 11. We flew to Wisconsin to visit my Aunt. My favorite flight is to St. Thomas, US Virgin Islands though. ;)
11. What did you want to be when you were little? A vet. I've always had a deep love for animals. After 10th grade, this changed to wanting to be a Chemistry Teacher.
My Questions to the nominees
What made you start blogging?
Do you have any nicknames?
What's one thing you'd have to have with you if you were deserted on an island?
What is your guilty pleasure?
What is your favorite movie quote?
What is your go-to accessory staple?
What is the best thing you've ever cooked?
If you were one of the four seasons- which would you be and why?
Where you born in the state (or country) you're currently living in? If not - what brought you there?
What do you do for a living?
What do you think MSDS stands for?
And now for the nominees!
congrats, ladies! I love y'all!
AND NOW! A really fun giveaway!
i am so excited to announce this amazing giveaway with
boutique sui numeris
!! they have an AMAZING collection of dresses and accessories!! one lucky winner will receive a $50 gift card plus a surprise accessory from the shop!! all entries will be verified and shipments to USA addresses only please. good luck!!