Happy Sunday, y'all! I hope you had a great Valentine's day... even if it was like Kasey, with your best friend, Jose.
We spent the day like any other day. My mom and brothers came over for a bit. If you follow me on instagram, you saw my brothers practicing skills of tying each other to trees. Great fun. Afterwards, me, Josh and the kids went to movie stop to find a few new movies. My "valentine's" gift was The Lucky One. I cannot get Josh to watch it with me though. The night ended with dinner at Applebee's (aka Monroe's finest "date night" facility). Ha! It really was a great day. I wouldn't change a thing.
I'm showing up for the party on this (really cold) Sunday to
link up with Amanda (and Faith) for the super fun
My Conversations!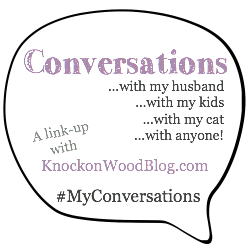 To set the scene: last night we were sitting at Applebee's. It was me, Josh, the kids, Josh's best friend (for the sake of this we'll call him D) and his 2 kids. So three adults, 4 children.
I was telling them about when I went to an NA / AA meeting to support some friends.
Me: Yeah, when they went around the room saying first names & "I'm an addict" and stuff like that I decided to be a smart alec.
Josh: Um... Babe? What did you do?
Me: Nothing serious. I simply said, "Hi! I'm Dory and, well um... I don't think I've ever eaten a fish!"
*all dying of laughter*
(I've never done any drug, so me being at a meeting like that reminded me very much of Dory going to the fish anonymous meeting!)
Me: Everyone at the meeting thought I was hilarious!
[several minutes pass and the waitress finally comes to see us. She starts to tell us about the specials]
Waitress: Oh no! It looks like y'all don't have the salt and pepper caddy! I needed that to show you the new drinks.
D: Were the people before us black?
(( D is in fact black himself ))

--long pause--
D: I bet they stole the caddy!
Waitress: *dying of laughter* OH MY GOSH! That's the funniest thing I heard all night!
Josh: *spewed his sweet tea!* Good grief, man! You could warn someone before you make a comment like that!
Waitress: Don't worry, I'm not offended! That was hilarious.
Josh: But I made a mess!
And that, friends is pretty much how the entire night went. There were several moments that we all made the waitress blush and burst out with laughter. It was a great night for sure!
Do you have a funny conversation? Link up with Amanda to share!
These two cuties made for great Valentines