Happy Friday! I kind of feel like this week as flown by. Just me? It's still hard to believe that at this time last week I was admitting to being a newly stay at home mom. This week I've been browsing dollar stores to find fun little crafts for Ainsley and I to do at home. Since it's been awhile and I feel like I have a lot of new readers, I thought it would be a good idea to end the week with a "currently" post!
Thinking:
About birthday celebrations. Zander will be 5 on the 26th. I want to do something special for his birthday since he's gotten to the age where he really is remembering everything... and talking about everything for that matter. I want him to enjoy his special day. Not just at school with cupcakes I mean.
Feeling:
Cold. Georgia weather lately has been all over the place. Which is kind of the norm around here. When we go from 66 at the beginning of the week to 43 at the end of the week though... I'm cold.
Listening To:
musically, I'm listening to Pitbull's newest CD (
Globalization
) I'm loving this entire CD (Thanks Josh for the awesome birthday present!). Mostly I'm listening to the T.V. as background noise though since that's what I'm really currently doing.
Watching:
HGTV. I'm typing this up as Ainsley naps. As soon as she goes to sleep the T.V. gets switched from having Disney Jr. as background noise to Mommy shows as background noise. I don't actively watch anything until Josh gets home from work.
Reading:
Divergent.
I have already seen the movie (loved it). I started reading the book back in December, but I couldn't set enough time aside to get into it. Now, three days into it I'm almost done. Loving it!
Needing:
To go to the store. Specifically the dollar store. I have a lot of ideas for crafts and activities to do with Ainsley during the day. We've been coloring and reading, but I know she'll have more fun with hands on things. I need poster board!
Thankful For:
Extra time with my babies! Not even trying to be cliche, y'all. I'm so thankful that I have all of this quality time, and that I've been able to really see their unique personalities!
Wishing
Praying
: For the courage to actually apply to go back to school. But I kind of feel like that might be a bit much to take on JUST yet. Maybe I should master being a great stay at home mom first. It's been something I've been praying on all week. No firm decisions have been made.
Loving:
The fact that I'm starting to get back into the swing of things in the blogger world. I started getting my schedule back to normal. I'm able to blog and promote while Ainsley naps, and it's gotten me confident into being able to be active with
sponsorships
again. (Shameless plug!). I'm also loving that my tribe of bloggers has been so supportive.
Additionally,
I can't end the week properly without linking up with
Meagan
for Blogger Love & my favorites from this week! I've really missed this linkup, and last week it gave me a great way to catch up on a lot of posts that I had missed!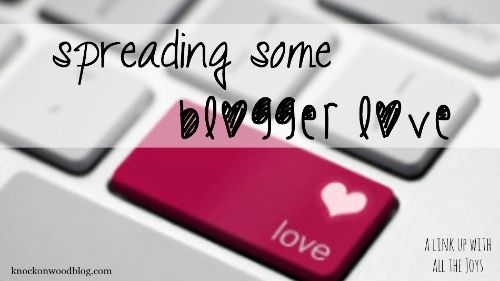 + Kristyn
/ Chits & Giggles :
I Can't Take a Compliment From my Husband
. Raw, real, honest posts are my favorite. This was exactly that.
+ Christina
/ The Mediocre Housewife :
Camping with Toddlers
. Christina's posts are both very funny and very honest at the same time. In this her opening line is "
Vacationing and small kids is the ultimate team building exercise for relationship."
If that doesn't make you want to read more, I don't know what to tell you.
+ Emily
/ Ember Grey :
To Love Oneself
. I love this idea to make time for yourself, even if you're in a serious relationship.
+ Kendra
/ Kenji is Here :
Confetti!
To go along with loving oneself, and the amazing "theme" bloggers had this week, Kendra had this little gem! A reminder to be the "ups" in someones' life because there's too many "downs". LOVE!
+ Liz
/ Simply Complex Mom :
For Every
. A sweet post about amazing moments in parenthood.
+ Paige
/ An Uncomplicated Life :
The Nightmare that is Dating & Texting
. Y'all... I didn't even know this was a thing. Paige has a great point if you're in the dating world.
What were some of y'alls favorites? Do y'all have any big plans for Valentine's Day tomorrow?