Y'all, you know what makes me super happy? You. My readers. Most of the time when I write something it's just to share with myself. If that makes sense. Those posts I'm really trying to get pageviews, and yet they still come. Which means y'all like me! Y'all really, really like me. For that I'm so thankful. I've also noticed an increase of page views in general as well as a lot of new faces in my comments!
For that reason, I'm glad
Jasmine
over at
Classy, Sassy, and a bit Smartassy
tagged me in
this Four
post. This gives me a great way to share a bunch of randomness with my new readers! Also, much like one of my other favorite bloggers, Kasey from
Kasey at the Bat
, I'm a rule breaker and an over-sharer so you're more than likely to get more than four things.
Four names people call you:
Well, my name is Melissa (obviously!) haha
|| Mel / Melly / Missy
: this is by close friends and my sister
|| Mommy
: by my children, duh
|| Llama
: by the blogging community. I've learned that I am "Llama" in several peoples' phones!
|| Goober
: by my husband because, well, I am. haha
Four jobs I've had:
|| Kroger.
I started as a bag girl and eventually became cashier. This was also where I met Amanda. This was my first job and not the greatest.
|| Titlemax.
Yes. I pawned peoples' car titles. Don't judge me. This was the first "office" job I ever had. There were parts about it that I really loved and parts that I hate, but it taught me a lot about life. Esp the difference in pawns and loans. Just don't do it, y'all. Don't. Like, ever!
|| Enterprise Rent A Car.
While I was pregnant with Zander I washed cars and got them ready for people to rent. No it was not glamorous and yes it was exhausting, but it helped pay bills. Also, I don't have a college degree so this was the only job I could legally do at Enterprise. I got yelled at a lot by people renting cars because I was basically 9 months pregnant and deep cleaning every car this particular Enterprise in Roswell, GA had. Including 15 passenger vans. My boss just told them, "look she applied for this. She knew that she'd be doing. I can't deny her work just because she's pregnant". After 6 months of unemployment after Titlemax this guy was also the only one that would hire me knowing I was pregnant. Props to you, Wolffe!
|| World Technology Ingredients.
I've worked in several manufacturing plants, all in the customer service role. This was my favorite in that it was literally like family. It was my most recent job before staying home full time. I miss it, but they taught me a lot!
Four movies I would/have watched more than once:
|| Sixteen Candles.
This one never gets old. Like ever. The Breakfast Club either for that matter.
|| Pitch Perfect.
Because who doesn't love a good movie jam-packed full of amazing songs, dancing, and hot chicks using aca for entirely too much? LOL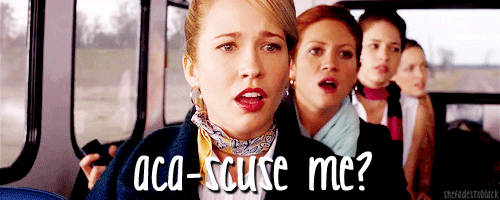 || Pirates of the Caribbean
. No explanation needed.
|| Rio / Rio 2
. I have kids. Kids get hooked on movies. I've also seen Frozen and Big Hero 6 more than I care to admit.
Four books I would recommend:
|| Speak :
Laurie Halse Anderson.
I've mentioned this to a few bloggy friends. Now all of y'all. It's powerful. It's heartbreaking. Read it.
|| Blue Bloods series
: Melissa De La Cruz. A twist on vampires. I loved all of these books
|| The Bean Trees
: Barbara Kingsolver
|| Harry Potter
: JK Rowling. But honestly if you haven't already read the series then we can't be friends. Sorry not sorry.
Four places I have lived:
There's more cities than just this. Current location not included.
|| Chamblee, GA
|| Buford, GA
|| Lawrenceville, GA
|| Cumming, GA
Basically...
I've lived in Georgia
Four places I've visited:
||
St. Thomas, USVI
. Amazing. Go there!
||
Milwaukee, WI.
|| Middlesex, NJ
|| Philadelphia, PA.
Plus, reasons why
you need to see
St Thomas, Chicago's aquarium and Philly's Zoo.
Four places I'd rather be right now:
|| Brisbane, Australia
. My cousin lives there, so basically free place to sleep!
||
Anywhere in
France
|| Puerto Rico
. My father in law was born here. I'm dying to go here with my husband and kids!
||
Just give me
a beach
with white sands!
Four of my favorite foods:
|| Pizza.
the end. the only toppings not allowed are anchovies and pineapple.
|| Ice cream.
Don't you dare tell me this doesn't count as breakfast.
|| Chili
. One of the best parts about Halloween? Chili cook offs! YUMMY!
|| Pizza
. Because well,
Meagan
will agree with me here. It deserves to be on here twice. So there.
Four T.V shows I watch:
|| Big Bang Theory
. True story: my husband gave me a T-shirt with "Rock, paper, scissors, lizard, spock" on it. This was probably the one gift I was excited about most when it came to my birthday. Sheldon gifs can be found on this blog frequently.
|| Once Upon a Time
. I just love this show. So much that I started watching during season 4 last fall, fell in love and hubs and I binged to get caught up to watch new episodes now.
|| Last Man on Earth
. Something about this show is just so dumb that it's hilarious. I can't put my finger on it. I just like it.
|| Castle
. This was another one hubs and I binged on to get caught up for the newest season currently on.
bonus points
: We will soon be binging on Elementary.
Four things I'm looking forward to this year (2015):
|| Finishing my fifteen in 2015.
Honestly, I haven't touched a single thing from it. Better get on that, huh? Here's to summer activities!
|| Having Ainsley potty trained
. We're slowly but surely getting there. It's a slow process, but hey.
|| Wedding attending in Sept
. Josh's brother that's 11 months younger than him is getting married! I cannot wait for this big party!
|| Thoughts of starting school
. That's right folks... I've been toying around with the idea of getting a degree. But I also don't want to rush into things & take away from the kids.
Four things I'm always saying:
|| Shut up.
This is usually accompanied by me slapping the arm of whomever is sitting next to me. When something shocking occurs, this comes out of my mouth
|| We don't hit in this house!
I'm alarmed by the amount that I have to say this to my youngest. Apparently Ainsley is trying to assert her dominance in the relationship of her and Zander. This is apparently happening by her pushing Zander around. Kids.
|| Can someone help me clean?
Is this too hard for family to do? I mean come on, y'all. I can't be the only one that begs for help.
|| Babe, what's for dinner?
(sarcastically). I always ask him this. I try to get out of cooking every night. Josh doesn't cook so me asking this is usually hopes of getting him to order pizza.
And now that I've made this the longest blog post everrrr. I need to tag four ladies.
Four ladies I tag:
|| Amanda
//
Knock on Wood.
Just cause you're my bestie.
|| Kendra
//
Kenj is Here.
My current Daddy Llama Sponsor. I love this gal.
|| Lora
//
Heart of Life.
This girl inspires me with her dedication to getting fit. For that, you're tagged.
|| Emelia
//
Dream Big & Buy the Shoes.
Because who doesn't love a great pair of shoes?
So thanks again, Jasmine. Love you, girlie. I hope y'all learned something new!