Happy Monday, Y'all!!
On this glorious day (only 10 days away from Christmas might I add?)
I'm linking up with Emily with a Grateful Heart.
AND Amanda For My Conversations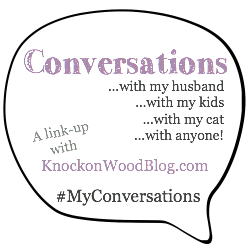 Last Thursday, Josh and I watched
Guardians of the Galaxy
. I highly recommend this movie. It's hilarious and the soundtrack is THE BEST! No exaggeration. After the movie, somehow we got to talking about C.S.I.: Vegas.
Me: Wasn't that the show that Mufasa was in (SIDE NOTE: I don't remember actor's names... just stuff they've been in)


Josh: James Earl Jones was NOT in C.S.I


Me: Well dang it... who was the guy in that show? He has a distinctive voice like Mufasa.


Josh: He's not Mufasa. He's James Earl Jones. And most people remember him for Darth Vader Anyways.


Me: You still haven't told me who's in C.S.I.


Josh: Lawrence Fishburn. Also, you sound really racist.


Me:
NUH-UH! I didn't mean they look alike. Just that they both have really distinctive voices. I'm not trying to be racist.
After this we sit quietly for a moment, watching the extras from the Guardians bluray.
Me:
So, Random thought... it's Lawrence Fishburn in the
sprint commercials
then right?
Josh:
*with a very confused look on his face* Which Sprint Commercials?
Me:
You know!!! The ones where it's him and the white guy and they go, "OMG he's cray-crazy aborbs!" and "Obvi!"
At this point Josh is holding his face. He's officially come to the point where he can't even with me anymore.
Josh:
No. *trying to hold back his laughter* That's James Earl Jones in those commercials.
Me:
Ok. Got it. Matrix guy is C.S.I. and Mufasa is sprint.
My husband has the patience of a saint with me, y'all.
Aside from being grateful for my husband's patience with me, Today I'm grateful for sponsors. Well, not
just
today.
Everyday
I'm grateful for them. I love getting the email notifications saying "new sponsor to approve!" Ok... adproval doesn't say exactly that, but you get it. I'm especially grateful when my sponsors have started as bloggy friends. Bloggy friends like
Ashley
. She blogs at
That Southern Mama
. She's such a sweet, caring person with a fun style and a great attitude about parenting. She's also one of my current Daddy Llama sponsors!
Today I'm excited to introduce Ashley to y'all. I know you'll love her as much as I do. If you're not following her yet, why not? Do it!
Describe yourself in four words.
Mama's a hot mess! [ This is how I feel these days, ha!]
You're about to have your second child. Are you excited or nervous? Tell us what you're thinking!
Both, I am excited to meet her & Kenzie finally meet the little sister we are always talking about. I am a little nervous about the labor & delivery part. Last go round went so smooth for it to be my first.. Just wondering how this one will go down.
I really love your blogging style. What made you start blogging?
THANKS! :) Well with this blog it was me becoming pregnant with Kenzie, & wanting to share & document as much as I could.
You're a new addition to the crayon box. What color would you be and why?
Leopard print, because it IS a color. Or should be. It is awesome, I am awesome so it just makes sense. :P
What's the best advice you've ever been given about blogging?
Enjoy it. When I no longer enjoy it, something went wrong & I will probably stop.
What's your favorite movie quote?
Hmm I do not really know. Maybe, "We are going to need more pies!" or "Did we just become best friends?" Ha, I am lame.
If you could eat one food for the rest of your life, what would it be?
At this moment I would say pretzels! I must have them every day! Maybe they are the reason I have gained so much this pregnancy..
See? How fun is she? I'm very blessed to have met Ashley through blogging. She's a local GA blogger like me! PLUS, Anyone that wants to be a leopard print crayon is automatically fun!
Want to see more of Ashley?
I highly suggest it.